Mornin' Juice (Dan the Man)
There is this verse in Proverbs that talks about raising your children in the way they should go. Words from Solomon, who asked for wisdom and now thousands of years later we get the chance to drink the same words and heed the very wisdom he asked for. I don't know if anyone else is like me when growing up, words that came from your parents, were not these nuggets of wisdom. They seemed restrictive, too disciplined, confining when the "advice" given was not lining up with how our young minds and wills were "seeing" a different way we should go. That would hold true for some of the wisdom imparted to me by my daddy, Dan Henry Bivins Jr.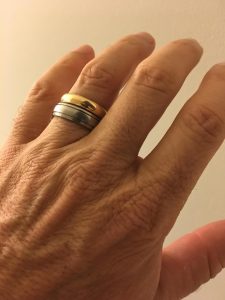 The gold ring, is the ring my bride placed on my hand on our wedding day. It was the same ring my mama placed on my daddy's hand when they married. In 1989 in Humboldt TN me and my daddy are waiting for our que to come out and stand in front of the friends, and family that filled Central Avenue Christian church. IN my/our nervousness, we are recalling moments in our lives that would bring laughter to help calm and slow down the beads of sweat on our brows. The que came and as I reached for the door to exit, I heard "son I love you"…it would be the first time I recall my daddy saying those words out loud. My knees were already buckling and now the wave of love my daddy poured over me still hold their place in my heart. Now gang, there was never a doubt the love Dan Bivins had and has for his family. I'm not sure why at times these words were difficult for him to say, however there has never been any question in seeing and experiencing his love.
I've read somewhere that cards bought and sent for Mother's Day far exceeds those bought and sent for Father's Day. The reasons are various, and this is not the place to wonder or try to determine why. A couple weeks ago I sent a tribute out to my mama, (https://therefugemboro.com/2018/05/23/mornin-juice-mamas-hand/) today is my tribute to my daddy.
daddy or as sometimes referred to as Pap…
thanks for teaching me how to tie a line on a hook and not going crazy bonkers when a i stuck a hook in danny's noggin
thanks for working hard and showing a world what it looks like to start out pushing a broom and one day becoming general manager.
thanks for listening to the grand ol' opry on wsm 650
thanks for the many trips to Atlanta to watch our Braves, especially the July 4 game in 1985 when we sat through many rain delays only to drive back after the marathon game.
thanks for showing me what it looks like to negotiate as we purchased my first car, the vintage 1964 pontiac lemans with spoke hubcaps (note hubcaps, not rims haha)
thanks for showing me how to keep a car clean
thanks for standing with me in the crazy accidents in the Toyota celica, then helping me find the RBM (rubber band machine)
thanks for taking a loan out to pay for first year of junior college baseball, thankful that second year garnered a scholarship
thanks for trying to get me back in church in my college years
thanks for speaking words of your wisdom even when i didn't want to listen
thanks for those same words becoming truth later in my life as children and now grandchildren enter my life.
thanks for allowing me to be a man alongside with you in our differences
Pap I could keep on but I will close with this one.
My biggest thanks is you showing me how to love your bride, my mama across the finish line. Seeing you each day go and be with mama, to help quiet her tears when the disease of Parkinson's is ravaging her mind. Thanks for being her advocate with the nursing staff to make sure her fingers aren't stretched, to make sure she is placed down for a nap at 2:00 pm, then back up to enjoy her dinner at 5:30. Thanks for knowing how much lantus to give when her blood sugar levels are whacky. thanks for showing up each day and beLIeVING out "I love you" with your "pooky".
thanks for showing me the way to go
you're a warrior!
thanks daddy, i love you too!